Gallery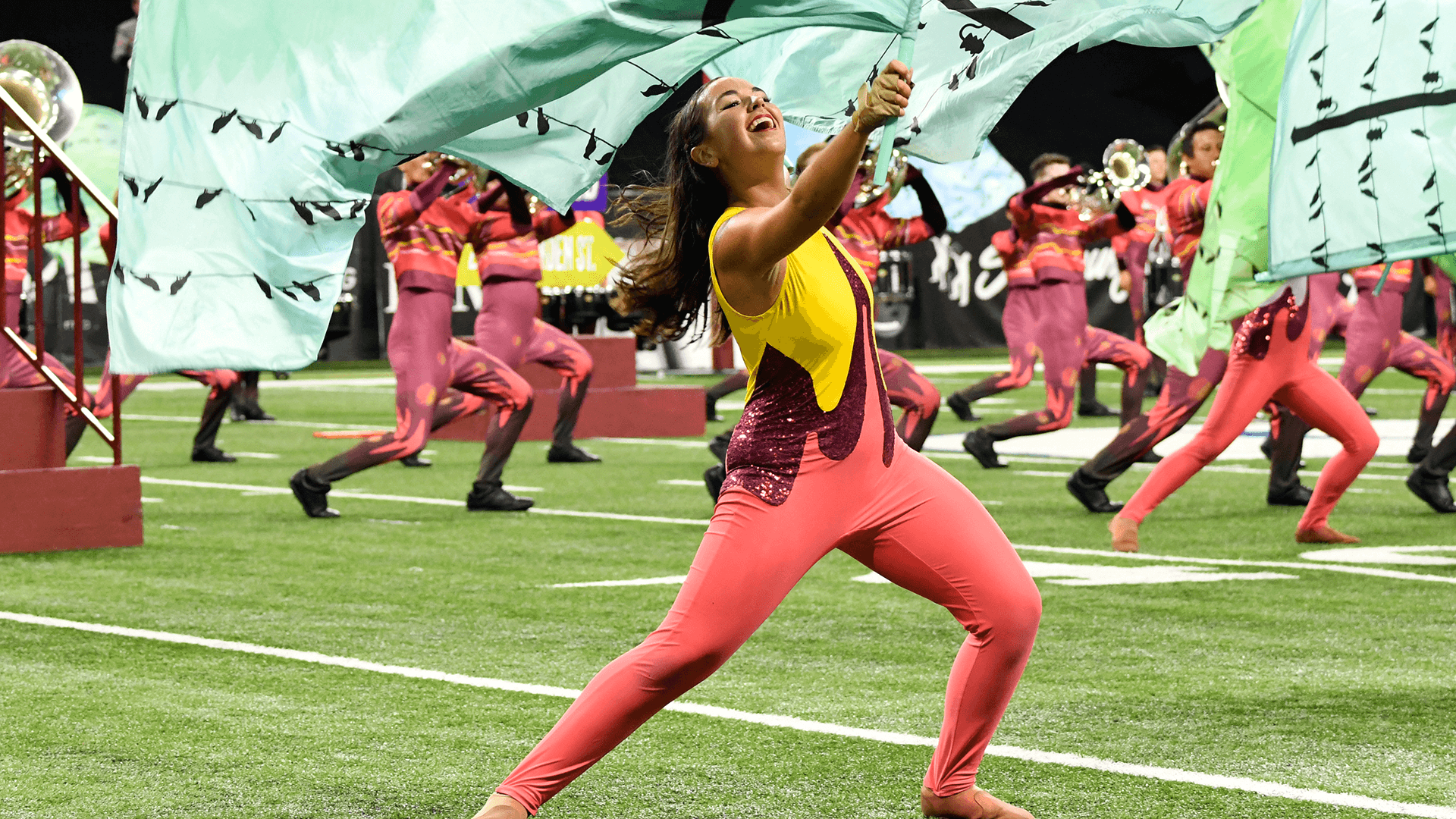 INDIANAPOLIS — It's a challenging task to obtain even one Drum Corps International World Championship. A corps must have an outstanding show design coupled with unrelenting effort from the current membership. It's a dream that hasn't become reality for many corps.
But one corps realized that dream for its 21st time Saturday night. Blue Devils proved why the corps was cut from a different cloth this season, receiving the DCI Founder's Trophy for the third consecutive season.
"There's so much hard work that we put into the show and in the summer," Blue Devils drum major Corey Castillo said. "When you think about the Blue Devils' legacy, it's a really high standard. There's a lot of pressure to uphold that, but I think we really did that successfully this year."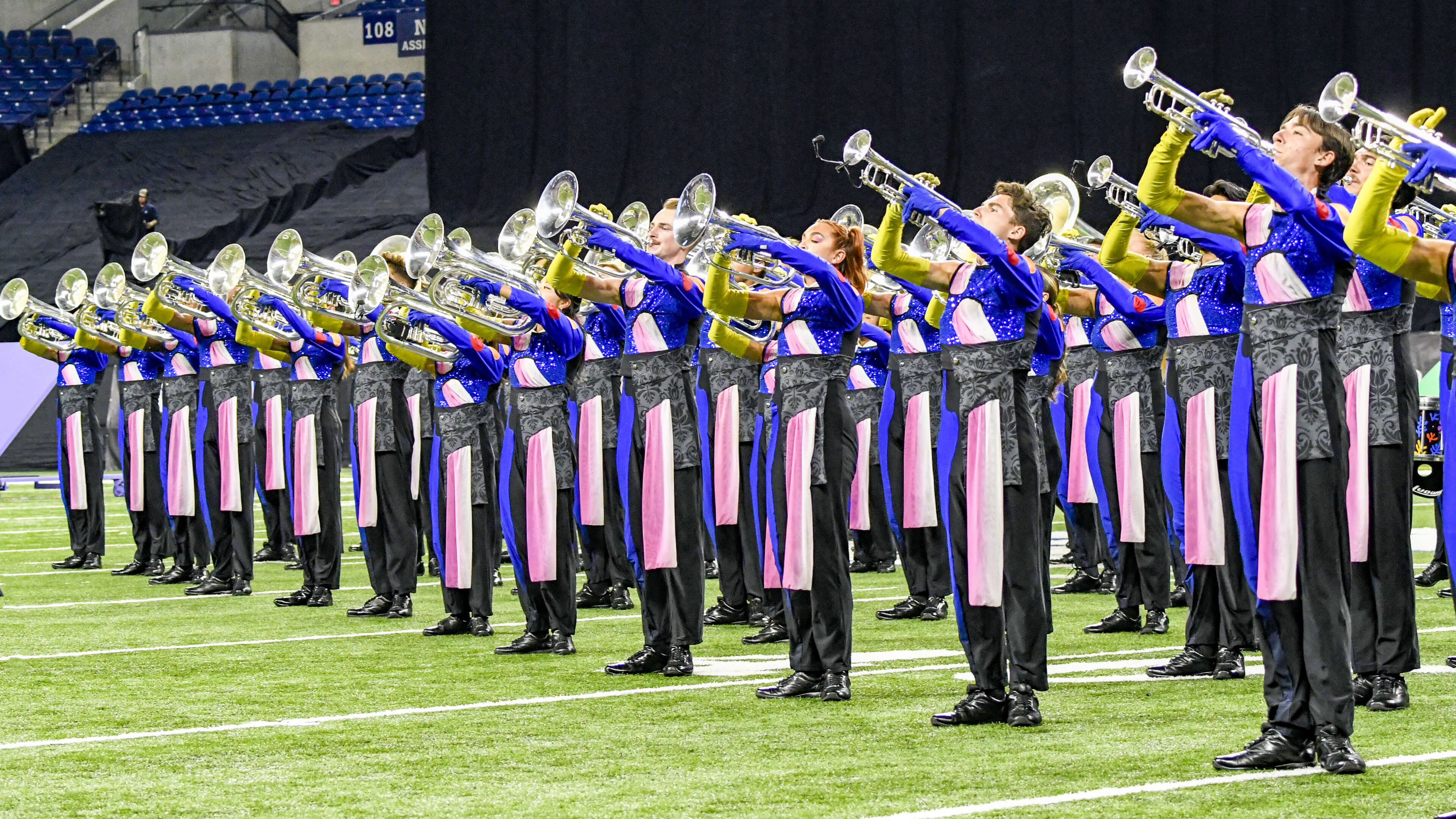 1. Blue Devils » 98.975
2. Bluecoats » 97.738
3. Carolina Crown » 97.663
4. Boston Crusaders » 96.925
With its record 21st World Championship title, Blue Devils finally snagged the elusive three-peat. The Concord, California corps now joins The Cavaliers and The Cadets as the only World Class corps to win three consecutive titles.
The conclusion of the 2023 DCI Tour also marked the end of Blue Devils' second-consecutive unbeaten season. It's been more than 1,500 days since the corps didn't finish at the top of the leaderboard at a DCI Tour event.
To add to its list of 2023 achievements, Blue Devils won the corps' first George Zingali Award for Best Color Guard Performance since 2015, while also taking home caption awards for General Effect and Visual Performance.
Bluecoats — with its third silver medal in four competitive seasons — continued an impressive run among the top corps. Since the Canton-based corps' championship run in 2016, Bluecoats has earned a medalist position in five of the last six competitive seasons.
"Seeing the corps' reaction was very impactful," Bluecoats drum major Finley Muela said. "I wish I could have stared at them the whole time."
Carolina Crown reached the medal podium for the first time since 2017 Saturday night. The newly-minted bronze medalist also won the Jim Ott Award for Best Brass Performance, its first since 2019.
"We just kept building on top of ourselves," Carolina Crown drum major Cooper St. John said. "Tonight, we put it all out on the field."
With its fourth-place finish on the Finals leaderboard Saturday night, Boston Crusaders earned its third top-five finish in four seasons, and finished just 0.738 points outside of the medalist tier. The Massachusetts corps scored as high as second in color guard.
"It feels really good," Boston Crusaders drum major Sean Kelley said about receiving the crowd's post-run reaction. "We've been working for 87 days, so seeing it pay off on the last night of the season is always great."
5. The Cadets » 94.313
6. Mandarins » 93.775
7. Phantom Regiment » 92.988
8. The Cavaliers » 92.125
A fifth-place finish Saturday night marks the first time The Cadets have ended the season in the top five since 2015. The Pennsylvania corps maintained its fifth position from the Semifinals thanks especially to a strong advantage in overall music.
"I don't have a lot of words because I'm processing that [the season] is over," Cadets drum major Cat Yang said. "I thought it was an incredible run. There was a lot of energy from the corps and it was really fun to see them perform the show."
In a season where the corps shattered its highest-ever score — a mark that stood at 90.013 prior to 2023 — Mandarins also earned its highest World Class Finals placement with a sixth-place finish Saturday night.
The Sacramento-based corps is just five years removed from its first time reaching the DCI World Championship Finals, and improved its 2022 placement by four spots on the leaderboard.
"I thought it was absolutely fantastic," Mandarins corps director JW Koester said. "The energy, the excitement, the control — everything we asked them to do they just did it."
Phantom Regiment finished the season in seventh place. The Rockford, Illinois corps moved up one spot from its final placement in 2022, and scored as high as fifth place in visual proficiency.
The Cavaliers — in the corps' 75th anniversary season — earned an eighth-place finish Saturday night, which marks an improvement of one placement from the corps' final spot in 2022. The Green Machine also received its first Fred Sanford Award for Best Percussion Performance since 2011.
9. Colts » 90.263
10. Troopers » 89.475
11. Blue Stars » 88.625
12. Blue Knights » 86.375
With its ninth-place finish Saturday night, Colts made a noticeable improvement from 2022, finishing the 2023 season two spots higher on the leaderboard than last season's placement. Saturday night's result is also the corps' first top-10 finish since 2007, and fourth finalist placement since 2000.
"Tonight's run was amazing," Colts drum major Carissa Blumke said. "It's a great feeling to know that we were here doing what we've been building up this entire summer to do."
Troopers earned a top-10 finish for the first time in nearly 40 years, sliding ahead of the 11th-place Blue Stars, who appeared in the DCI finale event for the ninth-consecutive competitive season and outscored Troopers in overall visual.
Saturday marked Troopers' first pair of consecutive finalist appearances since 1986, and continued a noticeable upward trend sparked by the corps' breakthrough 2022 season.
"The biggest thing we've had to overcome this season is our minds," Troopers drum major Bryan Paat said. "Over the few weeks leading into Finals, we've been able to mentally bring the best out of each other."
Saturday night marked a resounding return to Finals for the Blue Knights. After missing out on the Top 12 in 2022, the Denver corps finished the 2023 season two spots higher than its final placement from 2022.
"We treated tonight as our victory run because making the Top 12 was a big deal for us," Blue Knights drum major Laynie Metsker said. "It's been a tight competition and we make sure to take pride in everything we did today and not only make ourselves proud, but also make everyone before us proud."
With the completion Saturday's event, the 2023 DCI World Championships and DCI Summer Tour came to an exciting conclusion. Drum Corps International looks forward to another successful year of entertainment in 2024.
gallery-dci-world-championship-finals-indianapolis-in