Immediately following Drum Corps International's "Texas Tour" in the last weeks of July, corps will begin heading east for a series of events across six southern states, culminating with two major regional events in Atlanta and Winston-Salem, North Carolina.
Along the way, lineups of DCI World Class corps will have the opportunity to make stops at a number of longstanding venues to the annual DCI Tour as well as one exciting new stadium in Atlanta.
After wrapping up in Texas, a lineup of 17 World Class corps will kick things off on Wednesday, July 27, divided into two events in Little Rock, Arkansas and Hattiesburg, Mississippi. These mid-week tour stops will return to the familiar confines of War Memorial Stadium and the University of Southern Mississippi respectively.
DCI Birmingham returns to Hewitt Trussville Football Stadium on Thursday, July 28 for one lineup of corps, while another travels up to Murfreesboro's Middle Tennessee State University for the Masters of the Summer Music Games on Friday, July 29, annually one of the most popular and best-attended events of the entire DCI Tour schedule.
"As we expected as part of our tour-planning process during the ongoing pandemic, it has been far more challenging than usual nailing down facilities for DCI Tour events for the coming season," DCI CEO Dan Acheson said. "While we will have to forgo some of our longstanding visits to favorite tour stops like Orlando and Mercedes-Benz Stadium in Atlanta this summer due to scheduling and corps travel limitations, we've been working with the performing ensembles to create an exciting 'stretch run' as the tour moves out of Texas and heads east in the lead-up to the DCI Eastern Classic in Allentown and our 2022 World Championship events."
As the DCI Tour schedule continues to come into focus, there's no doubt that anticipation will build to a thrilling finale at the 50th anniversary celebration in Indianapolis. Much of that anticipation will be found in the final two days of Southeastern events on July 30 and July 31.
For the first time since entering downtown Atlanta's Mercedes-Benz Stadium in 2018, the annual DCI Southeastern Championship will not return to the indoor venue, instead marching into Georgia State University's Center Parc Credit Union Stadium on Saturday, July 30 for the first time ever.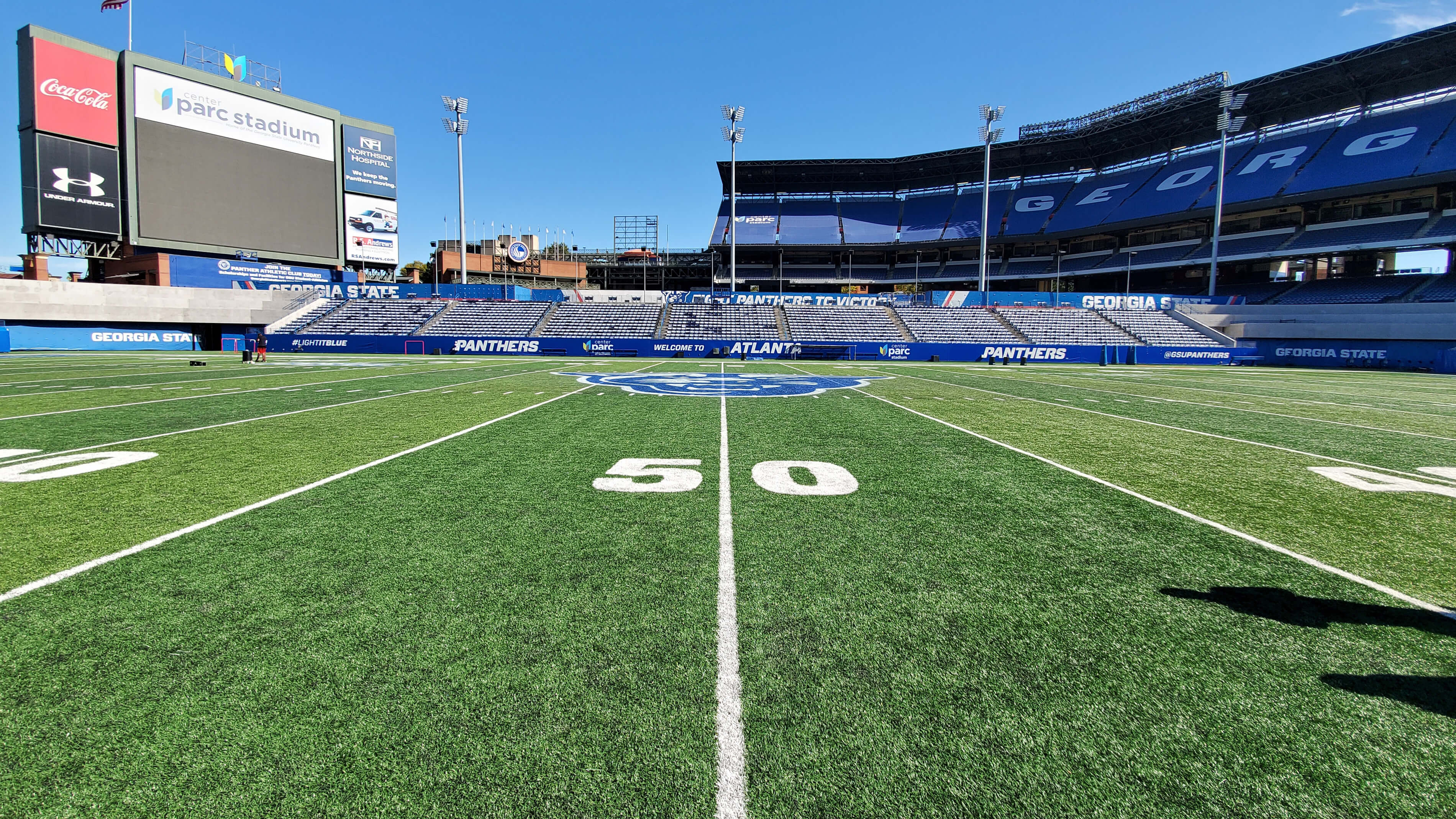 The 24,000-seat outdoor venue has a long and storied history with its sprawling view of the Atlanta skyline. Originally built for the 1996 Summer Olympic Games, the facility served as the home of Major League Baseball's Atlanta Braves for nearly two decades before its latest reconfiguration for football when it welcomed the Georgia State Panthers in 2017.
DCI's inaugural event at Georgia State will feature 17 World, Open and All-Age Class corps, while on Sunday, July 31, a lineup of 14 World Class corps will head to Winston-Salem, North Carolina, for the Carolina Crown-presented NightBEAT at Wake Forest University.
"Taking into consideration travel and logistics, this year's plan for Atlanta and Winston-Salem will feature the top-six corps from 2019 in both shows and all other World Class corps in one event or the other," Acheson said.
The 2022 Drum Corps International Tour schedule, which will kick off on June 24 for DCI's 50th anniversary season, is expected to be released in its entirety coming up Wednesday, November 24.
Sign up for email alerts about the 2022 DCI Tour schedule and tickets
DCI "Southeastern Swing" at a glance
DCI Little Rock
Wednesday, July 27
War Memorial Stadium| Little Rock, AR
Notify me when tickets to this event go on sale
DCI Southern Mississippi
Wednesday, July 27
The University of Southern Mississippi | Hattiesburg, MS
Notify me when tickets to this event go on sale
DCI Birmingham
Thursday, July 28
Hewitt Trussville High School | Trussville, AL
Notify me when tickets to this event go on sale
The Masters of the Summer Music Games
Friday, July 29
Middle Tennessee State University | Murfreesboro, TN
Notify me when tickets to this event go on sale
DCI Southeastern Championship
Saturday, July 30
Georgia State University's Center Parc Credit Union Stadium | Atlanta, GA
Notify me when tickets to this event go on sale
NightBEAT
Sunday, July 31
Wake Forest University's Truist Field | Winston-Salem, NC
Notify me when tickets to this event go on sale