Gallery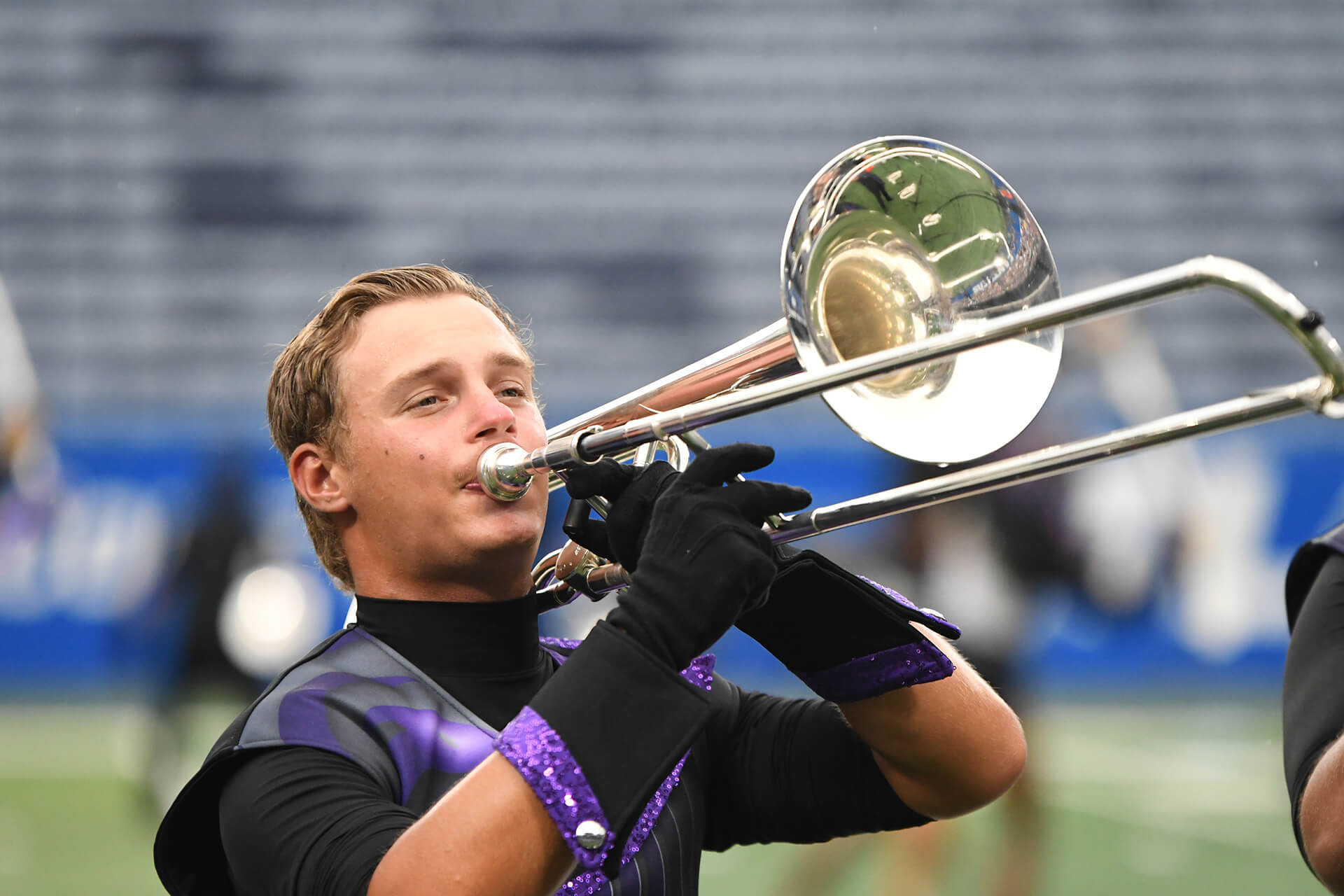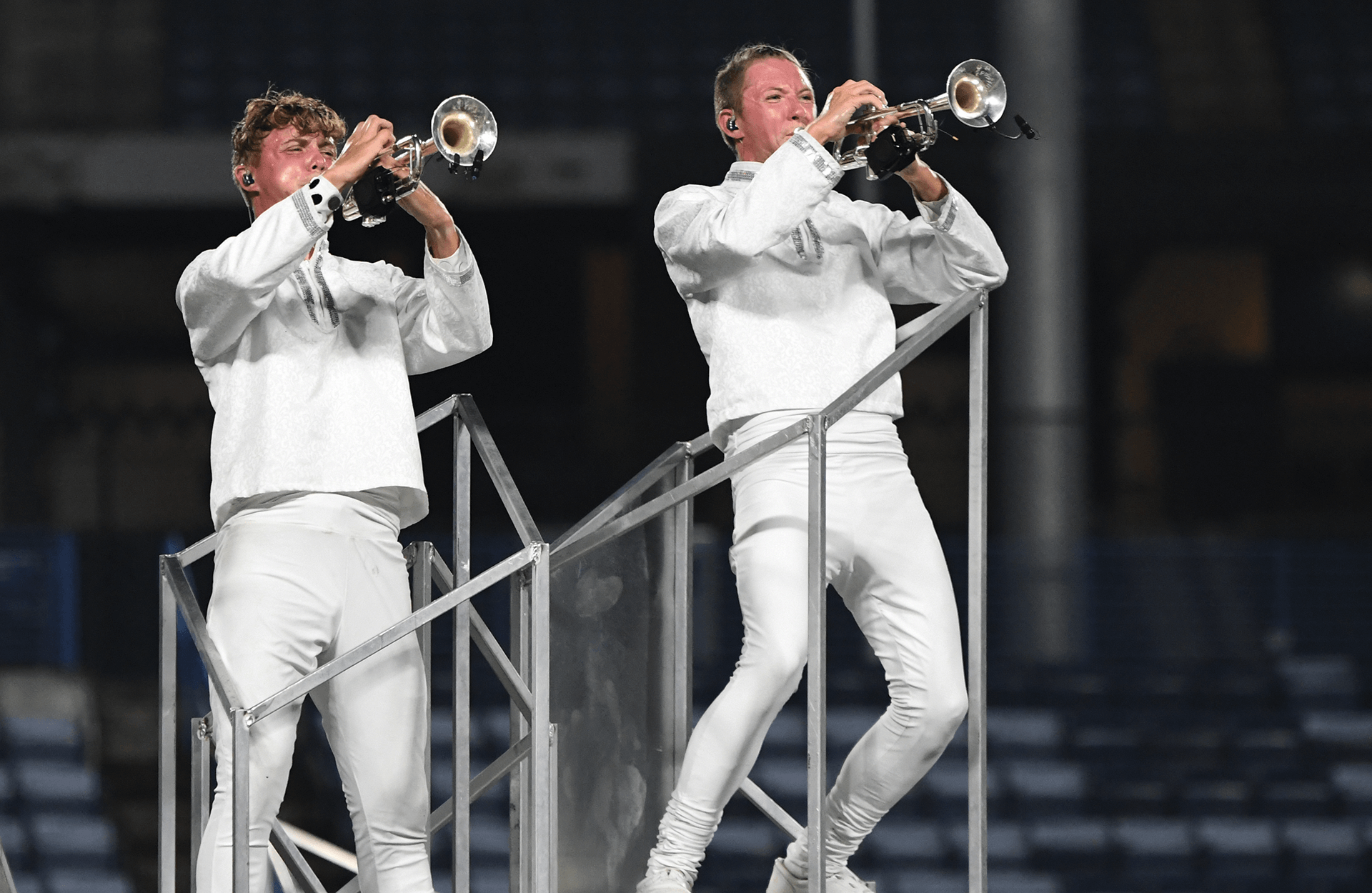 ATLANTA — Once rains cleared and fans reentered the stands at Center Parc Credit Union Stadium, following a brief weather delay, 16 drum corps brought vivid music and color to a crowd of some 10,000 as part of the 2022 DCI Southeastern Championship presented by Ultimate Drill Book, Saturday, July 30.
Blue Devils ended up atop the World Class leaderboard and continued the corps' undefeated season with a top score of 94.050
"That whole run felt electric," Blue Devils drum major Dina Bratanovic said. "During the run, I got some goosebumps and some chills; just listening to the horn line, I could feel the passion coming off the field from the performers. It was breathtaking."
View scores and recap from Saturday in Atlanta
1. Blue Devils » 94.050

2. Boston Crusaders » 93.875

3. Carolina Crown » 93.050

4. Bluecoats » 92.225

5. Santa Clara Vanguard » 90.950

Blue Devils earned top scores the majority of its advantage in the general effect caption, while also earning first place overall in visual proficiency and visual analysis.
Boston Crusaders — which has held serve for the past week in second place since first earning its top-two standing July 23 in San Antonio — made up significant ground on Blue Devils finishing just 0.175 behind. The two were separated by 1.2 points Friday in Murfreesboro, Tennessee. The Boston corps earned top scores in total visual and music, as well as percussion and color guard, and kept a decent advantage over third-place Carolina Crown.
The tight race between Bluecoats and Carolina Crown continued Saturday; the two were separated by just 0.825. Bluecoats defeated its Fort Mill, South Carolina opponent head-to-head for the first time this season Friday in Murfreesboro, but Carolina Crown regained its advantage by just under a point in Atlanta.
"I think we're very determined," Bluecoats drum major Vic Lee said. "It's a sprint from here on out."
Santa Clara Vanguard, which rounded out the top five, finished third in percussion and fourth in brass.
6. Blue Stars » 87.850

7. The Cavaliers » 86.450

8. Phantom Regiment » 85.950

9. Mandarins » 85.900
Blue Stars continued the corps' strong month of July with a sixth-place finish at Saturday's key Atlanta event.
The race between The Cavaliers, Phantom Regiment and Mandarins was razor-thin — especially between the eighth- and ninth-place finishers, who were separated by just 0.05. Saturday marked Phantom Regiment's first time outsourcing its Sacramento opponent since 2018.
The Cavaliers, however, emerged ahead of Regiment and Mandarins, largely due to strong scores in music captions. Mandarins' scoring strength came in the visual and general effect captions where the corps finished seventh. Regiment tied for eighth in the general effect caption with The Cavaliers.
10. Madison Scouts » 77.550

11. The Academy » 76.800

12. Music City » 75.850

13. Genesis » 72.450

Madison Scouts kept The Academy at arm's length at Saturday's Atlanta event, outscoring the Arizona corps by 0.75; the two were separated by two points in San Antonio. The Madison corps held close advantages in most captions, while The Academy outscored its Wisconsin-based counterpart in music analysis and visual proficiency.
Music City broke 75 points for the first time this summer, and kept within striking distance of The Academy — a gap of just 0.95 — while also scoring as high as 10th in percussion. Genesis, which rounded out the World Class standings in 13th place, scored ahead of Music City in visual analysis.
1. Gold » 70.300

2. Heat Wave » 59.300

Gold returned to competition for the first time since July 10 — due in part to original scheduling plans, as well as a handful of standstill exhibition performances as a result of COVID-19 mitigation protocols. The California corps broke 70 points for the first time this season in the kickoff event of its east coast swing.
On the flip side, Heat Wave completed its 2022 season with a strong performance of its production, "Welcome to the Neighborhood."
"It's kind of sad, because you have to leave the people you've been with for a month," Heat Wave first-year drum major Adrian Draper said about ending the summer. "But this experience has been once-in-a-lifetime, I'm so glad I did it. Being here (in Atlanta) is amazing."
1. Atlanta CV » 72.900

Atlanta CV provided a strong opening note to the highly-anticipated event in its home state. The all-age corps will soon set its sights on the DCA Championships in Rochester in early September.
gallery-2022-dci-southeastern-championship-atlanta-ga