Gallery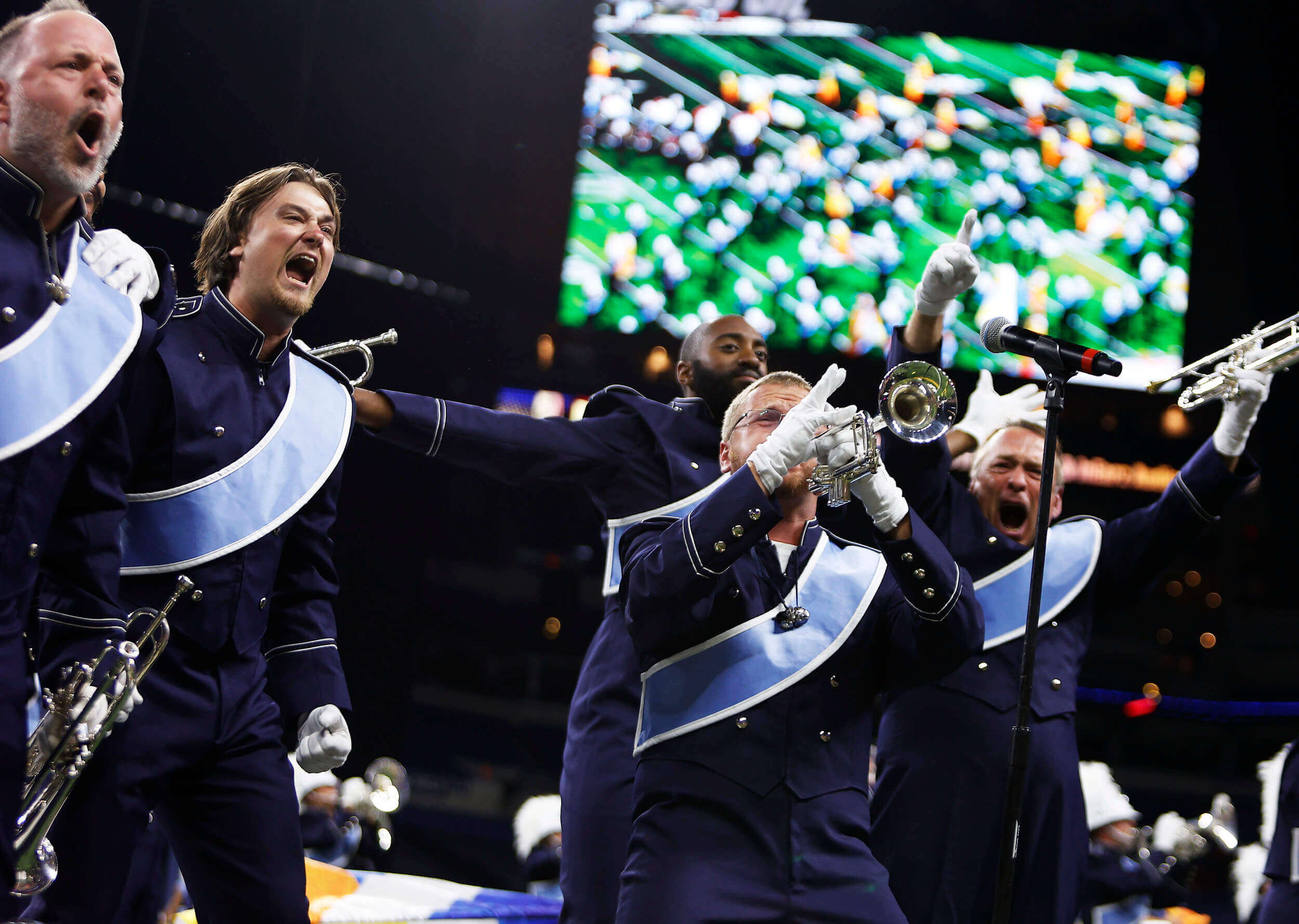 An electrified Lucas Oil Stadium audience roared in applause of hundreds of deserving performers, each of whom represented 50 years of drum corps history.
It was a sight to behold — corps alumni playing staple works from across their corps' rich history and recreating visual marvels of the past in the process. Its final conclusion, a performance of the organization's corps song, served as the night's emotional conclusion.
With that, Santa Clara Vanguard's 50th Anniversary Alumni Corps exited the field at Lucas Oil Stadium, as the final act at the 2017 DCI World Championship Semifinals.
That night left shockwaves. Bluecoats, whose golden anniversary was, at the time, five years away, were inspired.
"It was almost right after Santa Clara got finished with their performance," Bluecoats Alumni director Jay Wise said. "We said, 'Okay, game on, we want to do this.'"
A committee was formed, comprised of several Bluecoats directors from across the years, and plans were off and running.
"When we knew we were turning 50, we decided, 'Let's see if we can do this thing, put together an alumni corps,'" Wise added. "We wanted to be every bit the product that (the Vanguard alumni) were. What do we need to do to achieve that?'"
Even with half a decade to plan, countless hours of preparations were worth the wait.
The Bluecoats Alumni Corps, featuring more than 400 individuals representing each of the Canton corps' 50 years of existence, brought the house down at the 2022 DCI World Championship Semifinals in Indianapolis.
"Oh my goodness, it was a blast," said Bluecoats Alumni drum major Charles Stewart following the corps' encore performance. "It's like I'm in a dream right now. Everybody of significance that I remember has been in this organization, just getting back here and reconnecting with them and revisiting some of that music is amazing. It's been a blessing from above."
The performance touched a variety of points on Bluecoats' musical and visual timeline, with references to a variety of the Canton corps' iconic recent productions, as well as several nods to its rich history dating back to 1972.
Nearly 30 minutes of highly-produced performance featured, among many memorable moments, a reprise of the corps' "pitch-bend" effect from its 2014 production, "Tilt," and a finale of The Beatles' "Hey Jude," as performed in Bluecoats' 2019 production, "The Bluecoats."
"When we take the field, it's not going to be your traditional 'best-of,'" Wise said. "You're going to hear Bluecoats songs. If you know the corps' history, you'll go, 'I remember that and I remember that.' But rather than try to do 32 counts of this tune and 32 of that, the design staff — which is the same guys who design the show for Bluecoats right now — they said, 'Let's put together what feels like a show.'"
While the opportunity to perform meant the world to those on the field, it was vividly clear that it meant just as much to current members and staff of the Canton corps, who had front-row viewing.
And in the night's final moments, those same current members were able to join their Bluecoats family for a conclusive performance of their corps song, "Autumn Leaves," tying a fitting bow on an unforgettable 50th anniversary celebration.
"That dynamic is special," Wise said. "For the kids to be able to hear and see us playing, and for us to see the kids up there losing their mind, that was really cool."
gallery-bluecoats-alumni-corps-2022-dci-world-championship-semifinals