Gallery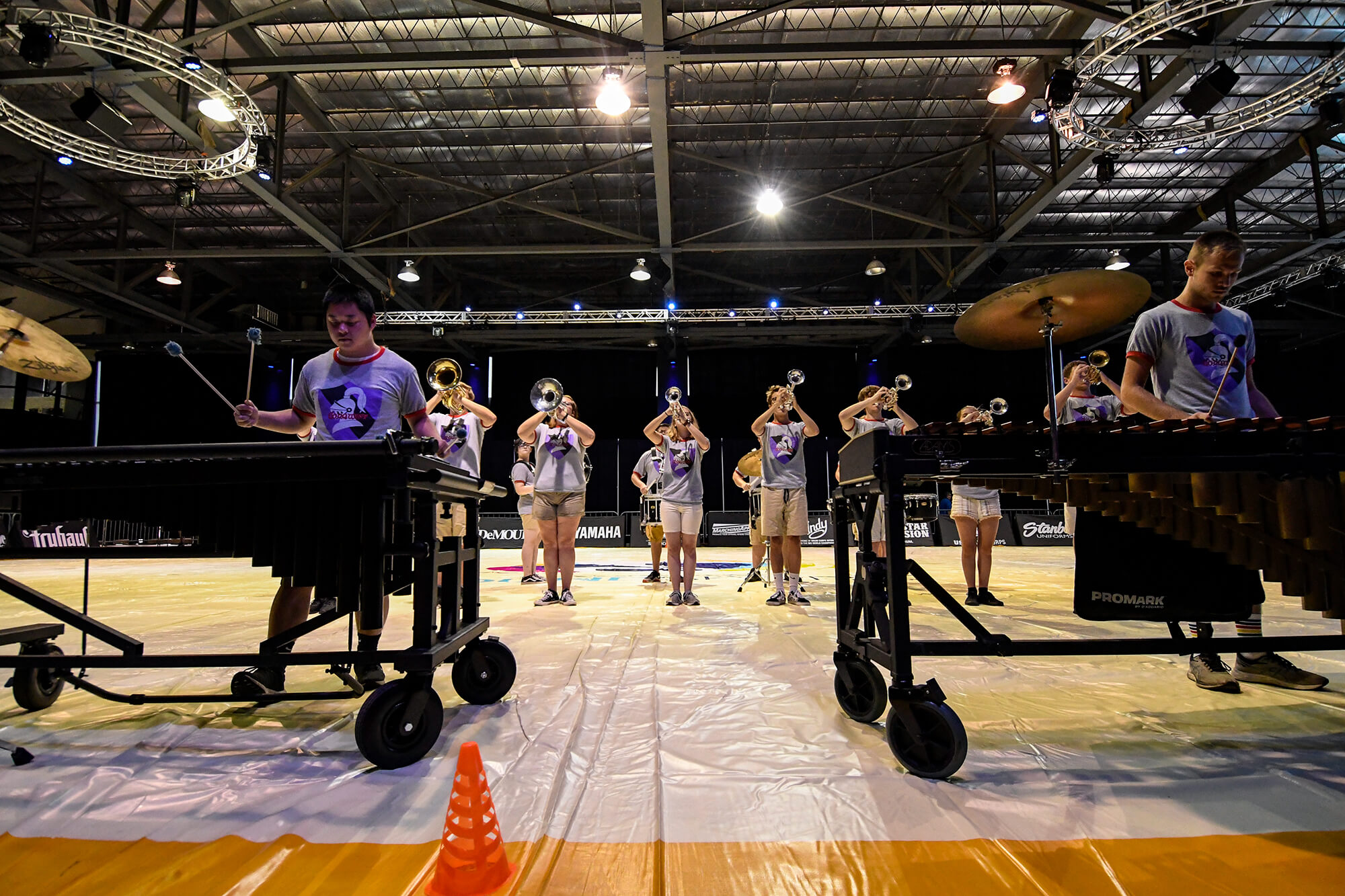 Drum Corps International's SoundSport program, founded in 2013, is set to be bigger than ever in 2022.
The exciting performance platform — predicated on inclusivity and entertainment — has hosted events all over the world for ensembles of all shapes and sizes, inlcuding the annual SoundSport International Music and Food Festival, which will return for its sixth installment next August in Indianapolis.
Registration is now open for SoundSport performance opportunities in 2022, and it's the perfect time for you to bring a group together to take part in the excitement of the DCI's 50th anniversary celebrations and the DCI Summer Tour.
With that in mind, here are four key things to know as you consider the life-enriching opportunity of bringing your performing ensemble to the SoundSport stage in 2022.
Register Your SoundSport Team for 2022
---
1. Any Way You Want It
SoundSport has been designed to attract a wide range of performance styles from an unlimited number of genres and styles.


• Any Size – With ensembles of five members of more, you can create and tailor your performance just the way you want it.
• Any Age – Whether you're just starting out or if you've "figured it out" long ago, there's never been a better time for you to take the stage.
• Any Instrumentation – SoundSport teams in past years have featured a range of ensembles from traditional band instruments to melodicas to tin whistles and more. Whether your group's musicians bring their talents to life on fifes and drums, bagpipes, strings, woodwinds, or any other instruments, the stage is set for them to throw down with unlimited options for a creative and entertaining performance.
2. Optimize Your Stage
SoundSport showcases performances in a 20-yard by 30-yard surface that's perfect for smaller ensembles to experience the roar of the crowd outside the confines of a cavernous stadium.
How does your group want to perform? SoundSport teams can wow audiences whether they're sitting, standing, dancing or marching. There's no need to worry about complicated formations or hours of rehearsal time.
3. The Perfect Reunion
It's time to get the group back together again, and there's no better year to do so than DCI's 50th anniversary. SoundSport has proven over the past several years to be a fantastic opportunity for drum corps alumni to reunite and make music together once again. Several of the program's ensembles have included Bluecoats Alumni (Rhythm in BLUE), the Bridgemen Alumni Corps and the Santa Clara Vanguard 50th Anniversary Alumni Corps.
The SoundSport stage provides you with the perfect excuse, and the perfect opportunity to share your corps' legacy with the next generation of marching music enthusiasts.
4. Low Cost, High Energy
With the SoundSport stage, there's no requirement for expensive instruments, grandiose props or state-of-the-art uniforms. All a SoundSport team needs is an inspired group of individuals excited to make music and perform for a close audience.
In an entertainment-minded performance platform, SoundSport teams are at their best when keeping their energy high and while sharing their joy of performing with audiences and fellow ensembles alike.
When it all boils down, that's what it's all about.
Unlimited opportunities, including...
Brass Ensembles • Percussion Ensembles • Flute Choirs • Trombone Choirs • Saxophone Ensembles • Herald Trumpets • Mixed Ensembles • Rock Bands • Brass Choirs • Steel Drum Ensembles • Combined Ensembles • Mariachi • World Percussion • Boomwhackers • Accordion Clubs • Bucket Drummers • Electronic Music • Bagpipes • Fifes & Drums • Tin Whistle Bands • Melodica Bands • String Ensembles • Chamber Musicians • Jazz Bands • Guitar Ensembles • Handbell Choirs • Quintets • Septets • Sextets • Octets • Vocal Groups • Military Ensembles • Choruses • A capella Ensembles • Barbershop Harmony Ensembles • African Drum & Dance
gallery-2019-soundsport-indianapolis