Gallery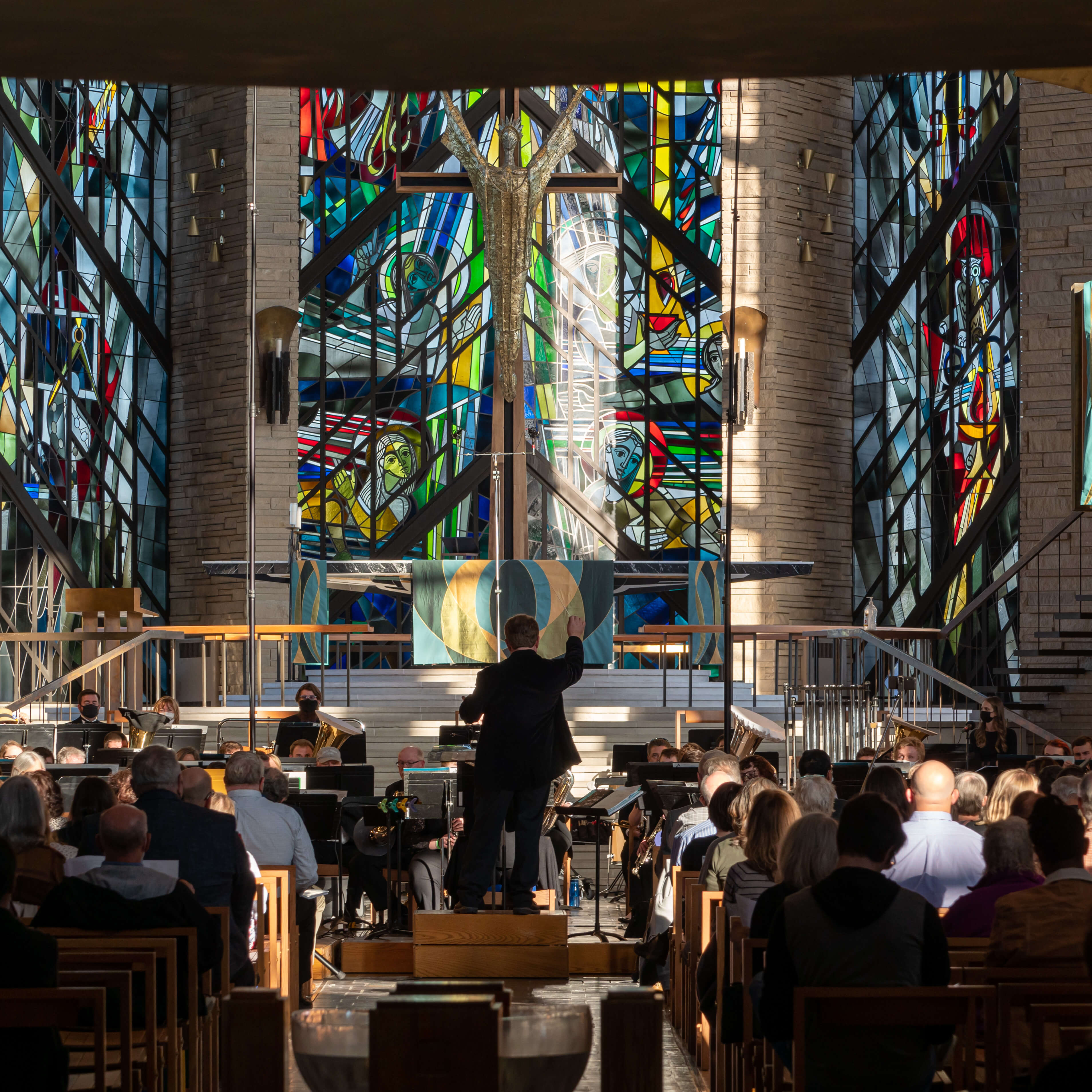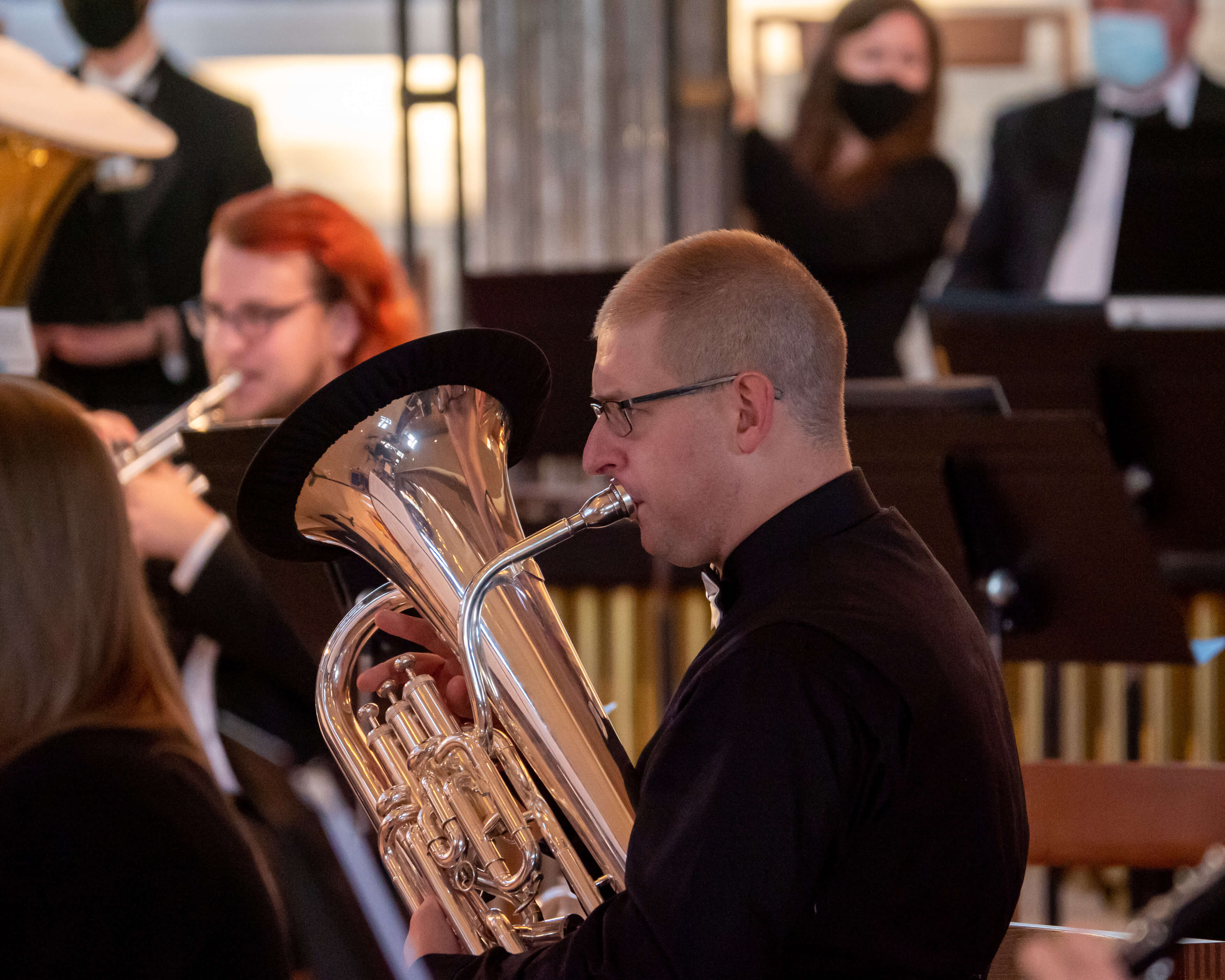 Michael Boo's fittingly named final composition was on display Sunday, October 17 at Valparaiso University.
The late DCI Hall of Fame member and longtime DCI staff writer also had an extensive background during his 65 years of vibrant life. As a result, he touched countless lives in both spheres.
And when the Valparaiso University Chamber Concert Band and Windiana Concert Band — two ensembles with which Boo spent plenty of time — debuted his magnum opus as part of Sunday's two-hour Michael Boo Memorial Concert, Boo's instrumental circles finally had their chance to pay tribute.
"I had been trying to figure out a time that we could premiere the piece," said Jeffrey Scott Doebler, Valparaiso University's director of music education and the concert's conductor. "With all of the different challenges related to COVID-19, concerts were canceled, venues, groups couldn't rehearse, all of that. So, finally, things got a little better in the fall and we planned this weekend hoping that it would work out, and it did work out for us."
It's long been clear to anyone in drum corps, and was abundantly evident to anyone at Sunday's concert; Boo loved others well and was loved well by others. And his final instrumental work was all about just that.
Boo's final work, completed in 2020 just before his death and debuted Sunday evening, is titled "Symphony No. 1: The Love of Friends."
Join us from the Michael Boo Memorial Concert in Valparaiso, Indiana, as the Valparaiso University Chamber Concert Band and Windiana Concert Band — conducted by Jeffrey Scott Doebler — perform works by the late DCI Hall of Fame writer and former performer, including the premiere of Boo's Magnum Opus, "Symphony No. 1: The Love of Friends," completed in 2020.

Posted by Drum Corps International on Sunday, October 17, 2021
"I'm so proud of Mike because of that piece," Doebler said. "He was able to be at the top of his game, of his creative self. There was a lot of emotion throughout the concert, but especially at the end of the symphony, thinking of how it was Mike's big work."
The piece ran through six movements, and was one of the first and only chances Boo had in countless decades of composing music to truly let his own imagination run amuck throughout a score. He'd been commissioned to write and arrange dozens of pieces, many for the ensembles that performed his music Sunday, but this was the first time he'd really been given full creative license.
As a result, Doebler said, there were little fingerprints of Boo's creativity all throughout the score. Doebler mentioned small melodic references that would mean something to individual friends of Boo's that performed the music.
"With the Symphony, we were able to just completely turn him loose," Doebler said. "We just said, 'Write what you want to write.' And so he did. And he really enjoyed it."
"Of course, I've studied the score more than anybody has," Doebler said. "The complicated things that are in the score, and the interesting ideas that are in the score, and references to some of those people who were playing tonight — references to some people who are no longer with us — all of these sorts of things, I can see in the music."
Of those friends, arguably one of Boo's closest — one who considers Boo a "brother" — held a key role in the symphony as the narrator of its sixth and final movement.
That friend is T. Patrick Billig, who was Boo's roommate on a Windiana Concert Band trip to China. Lodging with one another on the road ended up resulting in a long and close-knit friendship between the two.
As you'd expect, Billig said that performing Boo's music — especially his magnum opus — meant the world.
"The man was a freakin' genius," Billig said. "All of his talent came out in this piece. I thought the Symphony was absolutely brilliant, just brilliant."
Performers throughout both of the concert's main performing ensembles were familiar with Boo, especially those in the Windiana Concert Band. Boo was a Windiana member, and took part in several international tours with the ensemble.
Doebler noted, just like drum corps, individuals grow quite close when spending time travelling with one another, as was the case with many of Boo's friends in the concert band.
But the ensemble that performed Boo's work wasn't just comprised of those from Northern Indiana; musicians came from far and wide to take part in honoring Boo's legacy through his music, many of whom were involved in the commissioning of the sympony.
"When they knew we were doing this, they said, 'I'll cancel everything, I will be there,' because everyone wanted to do this for Mike," Doebler said. "To me, that was one of the neatest things about it."
Utlimately, the experience of honoring Boo in such a powerful way won't soon be forgotten by anyone involved in Sunday's performance, especially those who knew Boo well.
Through the Memorial Concert, Boo was paid tribute with the perfect combination of two of his greatest loves — music and friendship.
"If everybody in this room keeps Michael Boo in their heart," Billig said, "He will never die."
gallery-2021-michael-boo-memorial-concert-valparaiso-in